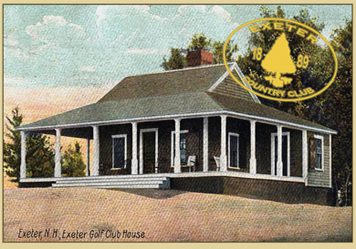 Golf Historic Exeter Country Club
Exeter's golf course opened in 1889, making it one of the oldest in America. Golf Magazine placed Exeter's challenging nine-hole layout among the 100 oldest courses nationally, but other documents indicate Exeter may claim to be among the 25 oldest clubs in the country.
The widely reported "locals' claim" that Exeter's original golf course was the second founded in the country is not confirmed and likely untrue.
Historians working from factual documents say the club was formed first under the name Exeter Golf Course in 1895 and became Exeter Country Club in 1900. However, the Exeter Gun Club was playing golf at the present Jady Hill location at least as early as 1889, then calling the course Eddy's Links.
Phillips Exeter Academy also maintained a five-hole golf layout off Drinkwater Road as early as 1902. The academy course closed and its golfers went to Exeter Country Club sometime later.
The postcard view (above) of the bungalow style club house with its wide surrounding porch is the original Exeter club house built in 1900. Today it is long gone. A 1953 tornado, described in eyewitness and press reports as a "twin-headed monster," ripped through the Exeter clubhouse and across the first tee, destroying the club facility as it stood at that time.
Who is Manny Francis Anyway?
The legendary Manny Francis, who redesigned Exeter Country Club in the 1950s, was a noted architect of many New England courses. But he was more well-known as the developer of "Vesper Velvet," the turfgrass that revolutionized putting surfaces. First used at luxurious Vesper Country Club in Lowell, Manny's hybrid velvet grass quickly became the norm for elite clubs everywhere.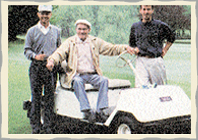 Francis remained as Vesper's superintendent for decades, renowned for the quality of that course. Somehow he found time to design and update dozens of other New England courses including The International in Bolton (MA,) Abenaqui CC in nearby Rye, and Hickory Hill in Methuen (MA.)
Manny's offspring followed those footsteps. Manny II and grandson Manny III (pictured above flanking Manny Sr.) became respected designers and superintendents in their own right. Manny II was the Belmont (MA) course superintendent for some 15 years. Today, Manny III remains course superintendent at Green Harbor CC in Marshfield (MA,) the course his father and grandfather founded and designed.