Spring Time at ECC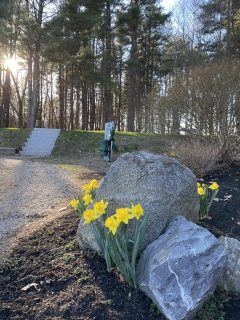 Hello Golfers!

As always, we are excited to be open for 2023 and looking forward to seeing everybody out on the course.  As mentioned in our previous email, the course is open with limited bar and grill service. 

Additionally, it will most likely be walking only until the Pro-Shop and Grounds Crew clear the course for carts (typically cart paths only this early in the year).  It's always best to call ahead for the current conditions (603-772-4752).   Tee Times also available on line at ExeterCountryClub.com
Course News & Improvements
Here are a few things we're working on this spring!
Tee boxes 
Tees markers will be kept forward on holes 3,4,5,7 to allow for watering of the seeded areas
Cart paths  (50% completed 40 ton of gravel on paths) 

waiting on another 60 ton to be delivered 
Bring in new gravel and fill in wash outs on holes 1, 2,3,4,9,

Replace dead trees (week of the 24th of April)
Add 1 new maple on hole 7 and 2 on hole 9.
Add arborvitaes on 8 green to replace dead spruce tree.
Bunkers (90% completed)

Edge bunkers  and remove excess grass and loam – Add 10 tons of new sand.

Greens aeration (April 24th – 27th)

Small hole size should minimize disruption to play and heal back up within a week. 

Tree pruning on the 4th hole (May 1-2)
Transition sod projects on 3 and 4 back into fairway ( expected to be ready by 2nd week of may)
We are looking forward to seeing everyone throughout the golf season.
Best Regards,

The ECC Staff & Board of Directors