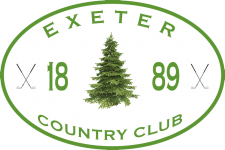 If you are a new member: This is an application for membership at the Exeter Country Club in Exeter, NH. Membership is not official until the club has reviewed and approved the membership and payment has been arranged. Once your form is submitted, a member of our staff will reach out to you regarding availability and payment details. Thanks for Considering the Exeter Country Club.
If you are renewing: All renewal information and payment must be completed and received by ECC on or before MARCH 1, 2022. If a payment schedule is requested: one-half of ALL monies due MUST be paid by March 1, 2022.
** Five (5) 18 -Hole Passes With Payment by February 15, 2022 **
For both new members and renewals: The entire balance must be paid by April 1, 2022. If the final payment deadline is missed, golfing privileges will be suspended until payment is received.. A Credit Card number MUST accompany any renewal form requesting a payment plan.
If you would prefer to download the paper form and mail it in with a check you can do so by visiting the Memberships page.